Acai berry is regarded as a functional food, because of its nutritional value and food therapy prospects have received widespread attention from the international community.
The study found that acai berry has a higher antioxidant capacity than other anthocyanin-rich fruits (such as blueberries, blackberries, cranberries, etc.).
Do you know acai berry's benefits and side effects?
Table of Contents
What is Acai berry?
Acai berry is a fruit of the palm family, native to Central and South America, with the most abundant production in the floodplains of the Amazon.
In addition to being an important food source for residents of the West Amazon, this fruit is also used as a medicinal plant for the treatment of fever, pain, inflammation, and anemia, with antioxidant, anti-inflammatory, and vasodilatory effects.
Acai berry fruit is rich in anthocyanin compounds and other polyphenols such as epicatechin, homogenate of catechins, orientin, deoxyhexose, etc., giving it excellent Nutritional value.

What are the benefits of Acai berry?
1. Increase antioxidant capacity and reduce active oxygen damage
Oxygen is an indispensable element of life. When cells use oxygen to generate energy, free radicals are a by-product of ATP (adenosine triphosphate) production from mitochondria, also known as reactive oxygen species.
At low or medium levels, reactive oxygen species can play a beneficial role in cellular responses and immune function.
At high concentrations, they will produce oxidative stress and cause oxidative damage to cells (lipids, proteins, DNA), eventually leading to many chronic diseases, such as atherosclerosis, cancer, diabetes, rheumatoid arthritis, and ischemic perfusion Injury, myocardial infarction, cardiovascular disease, chronic inflammation, stroke, shock, aging, and other degenerative diseases.
A study (a total of 35 healthy women over a period of 4 weeks) pointed out that ingesting Acai berry puree can increase catalase activity, total antioxidant capacity, and reduce the production of active oxygen.
In addition, it reduces the concentration of serum protein carbonyl and increases the total serum sulfhydryl group. (These two indicators are related to protein oxidative damage).
*Conclusion: Acai berry intake helps increase the body's antioxidant capacity.

2. Improve metabolic syndrome
metabolic syndrome is composed of a group of metabolic abnormalities. Features include obesity (emphasis on abdominal fat), high blood pressure, dyslipidemia, and hyperglycemia, and directly or indirectly increase the risk of coronary heart disease, atherosclerosis disease, and type 2 diabetes.
Once suffering from metabolic syndrome, within 5 to 10 years, the risk of type 2 diabetes will increase 5 times, and the risk of cardiovascular disease will increase 2 times.
An open-label study (1 month, for 10 overweight adults with a BMI between 25 and 30 kg/m²) pointed out that taking Acai berry puree can help reduce fasting blood glucose and insulin levels relative to baseline, The rate of blood glucose rise after a meal, total cholesterol, low-density lipoprotein cholesterol.
*Conclusion: The intake of Acai berry puree is positive for improving the related indicators of metabolic syndrome, but limited to a small sample, more placebo-controlled trials still need to be confirmed.

3. Reduce the risk of cardiovascular disease
Cardiovascular diseases cause more than 16 million deaths worldwide each year, accounting for about 30% of global deaths.
Many cardiovascular events can be avoided by improving risk factors, such as unhealthy diet, overweight, and obesity caused by lack of exercise, and smoking.
A randomized double-blind controlled study (23 healthy men) pointed out that Acai berry intake in the short term can help improve vascular function (measured by brachial artery vasodilation function/FMD, but blood pressure, heart rate, and postprandial glucose response did not significantly improve ).
*Conclusion: Acai berry intake is beneficial to vascular function and may reduce the risk of cardiovascular events. More long-term studies are still needed to further confirm.

4. Beneficial non-alcoholic fatty liver disease
Non-alcoholic fatty liver disease (NAFLD) is defined as hepatic bullous fatty degeneration that occurs when the intake of fewer than 20 grams of alcohol per day.
It is the most common liver disease in the United States, from the mildest steatosis to steatohepatitis (NASH), to progressive fibrosis, and finally to cirrhosis with portal hypertension.
The exact cause of the non-alcoholic fatty liver disease is not clear, but it is closely related to obesity, metabolic/insulin resistance syndrome, and dyslipidemia.
It is estimated that 70%-80% of obese patients suffer from non-alcoholic fatty liver, of which 15%-20% suffer from steatohepatitis.
An animal study pointed out that eating Acai berry fruit can help improve non-alcoholic fatty liver, including alanine transaminase, Alkaline phosphatase, macrovesicular steatosis, and increase antioxidant capacity.
*Conclusion: Animal studies have found that ingesting Acai berry fruit may have a positive effect on non-alcoholic fatty liver, but more human trials are still needed to confirm it.

Are there any side effects of Acai berry?
Acai berry is natural food. As of now, there are limited researches and there are no side effects or adverse reactions when taken in moderation.
In the case of processed products, such as powder, juice, tea, smoothie tablets, etc., possible side effects include: bloating, bloating, nausea, constipation, or diarrhea.
Chagas disease has occurred in the consumption of Acai berry juice in South America. Chagas disease is a parasitic disease, also known as American trypanosomiasis. The incidence of the disease is related to poor food hygiene resulting in food contamination

Safety Precautions
1. Acai berry has a high potassium content. Those with kidney disease who must follow a low potassium diet should avoid taking it.
2. May have a hypoglycemic effect, so do not use it with diabetes drugs.
3. Do not use it for pregnant or lactating women, because the related safety is unknown.
4. May interfere with the effects of chemotherapy drugs, so if you are taking these drugs, you should avoid using them.

Where to buy Acai berry capsules recommended by most people?
In recent years, food safety problems in various countries have exploded, and it is not healthy but black-hearted products that everyone spends on. Therefore, European and American products with relatively strict quality control have become popular products.
And iHerb.com is a large-scale medical cosmetics e-commerce company in the United States. It has a high satisfaction rate of 97% in the evaluation of Google customers. It provides global home delivery so that you can buy it without risking buying fakes through purchasing high-quality health products.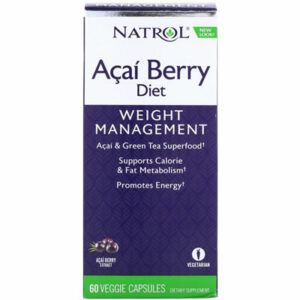 ==>Click here to buy and enjoy a 5% Discount for all the products and get 10% Credit Rewards for you to buy anything next time<==