What are the uses of Sweet Orange?
Sweet Orange is citrus and very popular. In addition to edible flesh, its peel and juice can be used in pharmaceuticals.
Sweet Orange peel uses are as follows:
Increase appetite
Phlegm
It can also be used as supplement for the treatment of cough, cold, Flatulence, Dyspepsia, and cancerous breast sores.
Sweet Orange juice uses are as follows:
Treatment of Nephrolithiasis and High Cholesterol
Prevention of High Blood Pressure, Stroke, and Prostate Cancer
The principle of Sweet Orange
At present, there is not enough research to prove the efficacy of Sweet Orange. Please consult a physician for more information.
However, the average person also knows many of the following benefits:
Sweet Orange contains a large amount of Vitamin C. Some researchers believe that Sweet Orange's vitamin C has antioxidant properties, so it can improve asthma.
Sweet Orange contains a lot of Potassium, and studies have confirmed that potassium may avoid high blood pressure and stroke.
Sweet Orange fruit and juice can be used to avoid kidney stones because these two contain a large amount of a chemical substance, Citrate when citrate is combined with calcium, it can prevent Calcium from forming kidney stones.
Precautions
Please consult a physician, pharmacist or herbalist if:
Pregnancy or lactation: If you are pregnant or breastfeeding, you should only take the medicine recommended by your doctor.
Are taking other medicines: including prescription medicines or medicines without a prescription.
Allergic to any substance containing Sweet Orange: or allergic to other drugs or herbs.
Suffering from other diseases: for example, disorders of the physiological system, or any other health conditions.
Allergies to certain substances: such as specific foods, artificial colors, preservatives, or animal allergies.
Is it safe to use Sweet Orange?
General Adults: Taking Sweet Orange is safe for most adults
During pregnancy or breastfeeding: It is safe to take an appropriate amount of Sweet Orange.
Children: If you eat a lot of Sweet Orange peels, it may cause Colic, Convulsions, or even your life.
Potential side effects
If you have any doubts about side effects, please consult an herbalist or physician.
Potential interactions
Sweet Orange may interact with personal medication or physical conditions, so please consult a physician or herbalist before use, and please note that the drugs listed below may interact with Sweet Orange:
Celiprolol
Consumption of a large amount of Sweet Orange may reduce the body's rate of absorption of Celilol, and therefore may affect Celilol's efficacy.
Do not consume large amounts of Sweet Orange if you are taking Cyrillol.
Ivermectin
Drinking Sweet Orange juice may reduce the body's absorption rate of Ivermectin. Taking Ivermectin and drinking Sweet Orange juice at the same time may reduce the efficacy.
Pravastatin
Drinking Sweet Orange juice may increase the proportion of Pravastatin absorbed by the body. Taking Pravastatin and drinking Sweet Orange juice at the same time may increase the efficacy of the medicine and may also increase the chance of side effects.
Quinolone antibiotics in Antibiotics
Adding Sweet Orange juice will reduce the body's absorption of certain antibiotics, which will reduce the effectiveness of antibiotics to fight infections, while Sweet Orange juice without calcium will not affect the effect of taking quinolone antibiotics.
Quinolone antibiotics that will be affected by Sweet Orange are as follows: Ciprofloxacin, Enoxacin, gatifloxacin, Levofloxacin, Lomefloxacin, Moxifloxacin, Norfloxacin, Ofloxacin, Trovafloxacin.
Fexofenadine
Sweet Orange may reduce the body's rate of absorption of fexofenadine, and taking Sweet Orange and fexofenadine simultaneously may reduce its efficacy.
P-Glycoprotein substrates drugs that are affected by cell pumps
Some drugs are affected by cell pumps, and Sweet Orange may change the way cell pumps work and also change the number of drugs absorbed by the body.
Here is currently insufficient information to explain the severity of such interactions.
Before more information is confirmed, please take Sweet Orange juice and such drugs at the same time.
In addition, the drug components affected by the cell pump include Etoposide, Paclitaxel, Vinblastine, Vincristine, Vindesine, Ketoconazole, Itraconazole, Amprenavir, Indinavir, Nelfinavir, Saquinavir, Cimetidine, Ranitidine, Diltiazem, Verapamil, Corticosteroids, Erythromine, Cyclosporine, Loperamide, Quinidine, and other drugs.
Recommended dosage
The information provided in this article does not represent any medical advice, please be sure to consult an herbalist or physician before taking it.
What is the general usage?
The following recommended usage has been confirmed by scientific research:
Oral dosage for patients with high cholesterol: 750 milliliters (ml) of Sweet Orange juice per day.
Oral dosage for preventing high blood pressure and stroke: Sweet Orange juice products containing at least 350 milligrams (mg) of potassium in each package and low content of sodium, saturated fat, cholesterol, etc., as stipulated by the US Food and Drug Administration (FDA), Only then the label claims to have the effect of reducing high blood pressure and stroke.
The dosage of Sweet Orange varies from person to person, depending on age, health, or other factors.
Herbs are not absolutely safe, please consult an herbalist or physician to find the most suitable dosage.
Type of finished product
Sweet Orange may be presented in the following forms:
Sweet Orange essential oil
Sweet Orange Peel Extract
Sweet Orange Peel Extract Capsules/Tablets
Sweet Orange Bath Salt
Where can I buy the best Sweet Orange essential oil?
In recent years, food safety problems in various countries have exploded, and it is not healthy but black-hearted products that everyone spends on. Therefore, European and American products with relatively strict quality control have become popular products.
And iHerb.com is a large-scale medical cosmetics e-commerce company in the United States. It has a high satisfaction rate of 97% in the evaluation of Google customers. It provides global home delivery so that you can buy it without risking buying fakes through purchasing high-quality health products.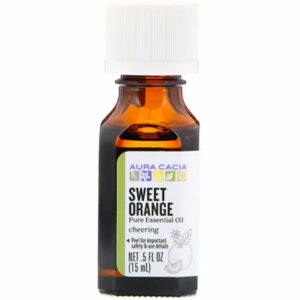 ==>Click here to buy and enjoy a 5% Discount for all the products and get 10% Credit Rewards for you to buy anything next time<==